How well are we serving you?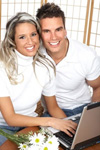 "Success is the sum of small efforts, repeated day in and day out."
Robert Collier
There is no better testimony than repeat custom of discerning clients and their valued referrals. Such loyalty means we enjoy the distinction of conducting business with some of the finest people and properties.
Because the quality of one's own service is sometimes hard to gauge, we can be sure to continue improving our service with your honest feedback.
---
"We have been with Gold Key lettings for the past 9 months and have been in regular contact with Sorani and Zara. Since the signing they have been extremely helpful, often going out of their way to ensure that any issues we had were addressed at the earliest. I still remember being international students we were a bit confused as to how the council tax and its exemptions would affect us. Zara took it upon herself to submit our college letters and ensured that we applied for the exemption. Moreover, any maintenance problems have been efficiently handled by Gold Key Lettings making our association with them very pleasant and relaxed".
A.T & C.S. Tenants
---
"We have recently used Gold Key Lettings to let our four bedroom flat in Westbourne. We have nothing but praise for Gold Key Lettings and all the staff for their tireless hard work and letting of the property, and would not hesitate to use them again.
Many thanks."
C, S. and I. Moors. Landlords
---
"Gold Key Lettings Ltd always provide a professional service. They are very personal and always respond quickly when contacted if any matters arise."
Rich H and Vicky T. Tenants
---
"Sorani and Zara are very helpful, reliable, honest and trustful people. Through them we found our first flat in Bournemouth, as tenants. Because they always answered our calls for advice,support and help while we were tenants we trusted them to our own property, which has never been empty of tenants since they started managing it. They always find the proper person for the proper property with a proper price for everyone."
R & M. Khalil
---
"This letter is to confirm that my company (Evans Property Management) has worked with Gold Key letting for some time. During that time I have found the professionalism exercised by Gold Key to be of the highest order possible. In times of stress i.e. house flooding and technical problems Gold Key have been prompt , diligent and cost effective in the requirement to establish the Status-Quo" as quickly as possible. I have been particularly pleased in the costing of such emergencies in that the invoices have reflected a true cost as opposed to a "quick Profit" mentality demonstrated by some agencies.
I hope to purchase further properties in the Bournemouth area and I can confirm that I will be delighted if Gold Key take on the management of these properties.
In conclusion I have no hesitation in recommending Gold- Key to any prospective tenant or company. They are top rate."
Patrick Evans. Director, EPM
---
"Gold Key are the first letting agent I have appointed to manage my property and they have happily taken away the stress I was experiencing. Sorani and her team quickly found me suitable tenants without compromising my rental income. Gold Key have been very responsive in addressing any issues including maintenance which has been efficient and cost-effective."
Ben B. Landlord
---
"Just want to say a massive thank you for everything you've done and helped us with over the last year - we've appreciated it more than you can imagine! You definitely made our first experience living away from home much easier."
Emily and Maddie. Tenants
We are what we repeatedly do.
Excellence, therefore, is not an act but a habit.
Aristotle